Implementing Parallel: Guide, tips and what to expect
Considering becoming a Parallel customer? Are you already a customer and you just got on board? That's fantastic news! Welcome to the community!
This guide walks you through Parallel's implementation process and shares with you the best practices and tips for it to be easy, fast, and successful.
What's Parallel's secret? The team is obsessed with smooth onboardings that get you up and running as quickly as possible. That is why you will have a dedicated Customer Success Manager (CSM) that will help you every step of the way. They will share all their expertise in LegalTech solutions and change management with you, to make sure you overcome any speed bump in your way.
Parallel is currently at the forefront for speedy implementation and unrivaled support in the digital process automation SaaS category, according to independent reviews on G2.

If you're interested in discussing what your Parallel implementation could look like, please click here to connect. Or keep reading for an in-depth guide to each stage of Parallel's streamlined implementation process, that looks like this:
Onboarding
1. Kick-off: Introduction to our method and agreeing on a joint plan
Parallel's implementation process is a collaborative effort. Throughout, Parallel's CSM will work closely with you to identify how they can assist you and your business in handling legal and compliance processes more efficiently.
Like any other first date, the CSM will want to know all about you in the first meeting to:
Deeply understand your challenges and goals:

The types of legal processes you want to manage in Parallel and how do they currently work. Your CSM can even help you draw your legal and compliance processes, understand, document, and standardize them if you have never done it before.
Your specific requirements for your legal process workflows and the integrations you'll need to ensure Parallel is seamlessly connected with your tech stack.

CSM will also introduce you to our implementation methodology for success. This method must be executed in a determined timeframe to meet your goals. At this point, it is essential to agree on a joint implementation plan to make sure we meet all your deadlines, and your processes are up and running as soon as possible. We also detail the weeks ahead for you, so you know what to expect from the Parallel team.
2. Select and analyze the initial processes
Start by identifying the first two or three processes you want to start automating:
"It's better to focus on a few things than to spread yourself too thin."
To start with, we recommend prioritizing 2 or 3 processes. Think of those processes that are the most cumbersome, both for your back-office team and for the client, and whose improvement would have a positive impact for the business.
Here you can find the most important criteria you should consider when choosing these first processes:
The frequency of the process execution or the amount of time invested by the team and clients.
Importance to business, involved key metrics.
Technical requirements of the proccess.
Involved stakeholders.
Once selected, analyze your processes thoroughly. Document each step and identify the stakeholders and owners. This will give you a clear understanding of the entire process. Every small step, such as an email or approval, is important.
If you haven't done it before, your CSM can assist you in drawing and standardizing your legal and compliance processes.
3. Create initial templates
Once you have a clear view of the processes you want to start automating with Parallel, share the materials you currently use for these processes with your CSM. All of them! Contracts, email templates, checklists, forms, etc.
Parallel was designed to be easy to use for anyone –not just lawyers– but nonetheless, it can be daunting getting your workspace and templates set up exactly how you want them. To make that process a little less ominous, Parallel's CSM will work with you throughout to set up your key templates at the outset. You're free to explore Parallel yourself, but it doesn't hurt to get help from CSM that have successfully implemented Parallel in other hundreds of organizations!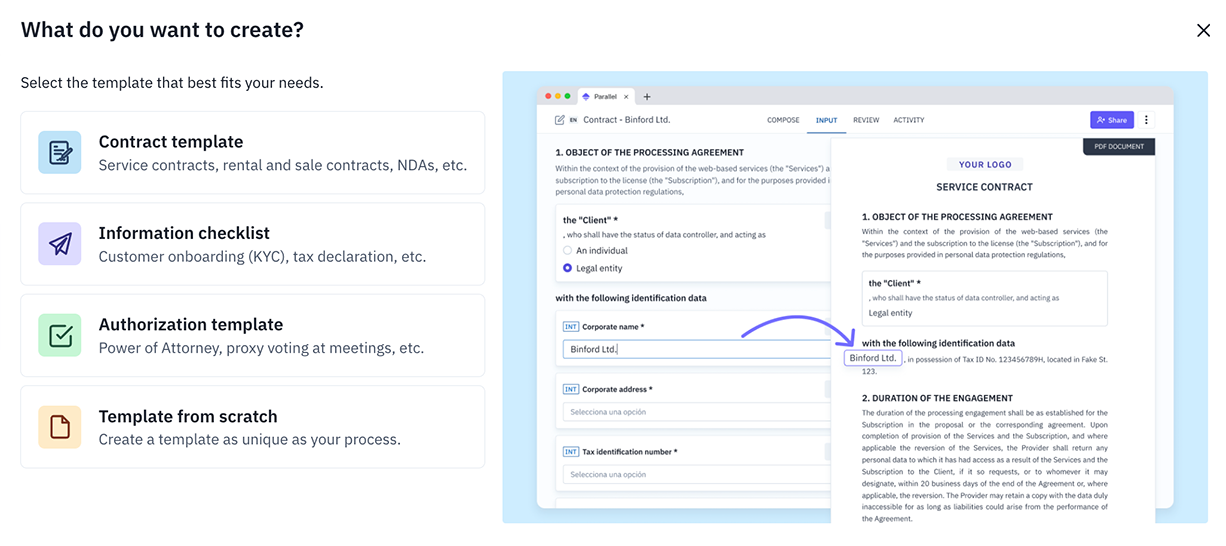 4. Learn how to be a Parallel Admin
Your 'Admin' users play a crucial role in driving adoption across the organization, which is why CSMs dedicate so much time and effort to making sure you're set up for success.
Would you be one of the Admin users in your organization?
Being independent and learning how to modify or create new templates in Parallel is key for a successful implementation and for your business. In the future, this will allow you to continuously improve your templates and processes, depending on no one, testing different ways to maximize internal efficiency and customer experience.
ProTip: Record all the Admin Training sessions so that you can access them in the future. For example, next time you think "How did I set that template last time?" You can review it in no time!

5. Run internal tests with your team
Test the process with your team sending them parallels and going through the whole process yourself, like a role-playing game! They are the most qualified to give feedback on how you have set up the process in Parallel and how to improve it.
ProTip: Involving your team from the beginning will make them feel part of the change and the reception will be better.
6. Adjust your templates and configure their process settings
Prepare your templates and configure their process settings for production, with real cases. We have a special checklist/guide to make sure you don't forget to set anything in your templates.

Activation
You're an activated customer the moment you start creating parallels, from start to closing.
1. Train your team and ensure adoption
Train the team that will be managing these processes in Parallel daily.
ProTip: Record this session so that the team can easily access it if they have any question.
The CSM team has trained many teams and has extensive experience in change management, so let them support you in this training. Implementing technology in legal and compliance teams can sometimes be intimidating, but it will be much easier if your team sees the friendly and human face of the CSM behind Parallel, ready to provide help whenever needed.
2. Launch the first processes!
Once you have the first processes configured and the team prepared, take the plunge. Launch the first processes and gather both internal and external feedback. The advantage of Parallel being such an easy-to-use no-code tool is that it allows you to adapt your processes while they're being executed.
ProTip: In the first few weeks, hold frequent feedback and Q&A sessions with your team, following up closely on the processes.
3. Integrating Parallel into your tech stack
At Parallel, we understand that a company's processes are interconnected. We believe that the key to productivity lies in ensuring that all the digital tools used are also interconnected. That's why our API is open and accessible to all.
ProTip: Before you start setting up integrations and automations, test your processes in Parallel for a few weeks-month. It is important to first build a process you are comfortable with before starting integrations.
You can set up no-code integrations yourself or with minimal technical support with tools like Zapier – ideal for commonplace integrations with CRMs like HubSpot or Salesforce, for example. Find out more about our integrations here.  For more complex workflows at scale, contact your CSM. They will be always on hand to support.

Adoption and success
Proactive Support
You started using Parallel – and now what?
Our CSM will proactively check activity in Parallel to make sure you're progressing as planned – is your team creating parallels? Are people logging into the platform? Is there anything we can support you with during this transition? – Your objectives and milestones are our objectives and milestones.
We understand that change can be challenging, but we're here to ensure you have all the resources and support you need to successfully navigate it. Our team is available for follow-up training sessions, Q&A sessions, and personalized support to ensure your team is comfortable and productive with Parallel.
Enabling continuous improvement and leveraging feedback
With Parallel, your optimization journey doesn't end when you launch your initial processes - it's just the beginning! Our SaaS tool is designed to empower you to constantly refine your workflows based on robust analytics and valuable feedback, setting you up for success and ongoing improvement.
As an activated customer, you can modify or design new template workflows directly within the platform, without the need for coding or waiting in line for our engineers. However, if you require assistance or additional Admin training sessions, our dedicated Customer Success Managers are readily available to provide insights, best practices, and support.
Set aside time to regularly review your process analytics and solicit feedback from your internal team and external clients. This is crucial in identifying areas of improvement and opportunities to further streamline your operations.
Parallel offers detailed analytics allowing you to assess the performance of your workflows, pinpoint bottlenecks, and understand how and where your team invests their time. Harnessing these insights can fuel process optimization, leading to heightened efficiency and productivity. Thus, Parallel not only supports but actively encourages continuous improvement to maximize the value you derive from our platform.
Scaling Up with Parallel
Once you've successfully implemented your first processes and are comfortable with the platform, it's time to scale up. Identify additional processes that can be automated and start the cycle again. Your CSM is there to assist you every step of the way, providing guidance on best practices for scaling and optimizing your use of Parallel.
Final Thoughts
Implementing Parallel can revolutionize the way you manage legal and compliance processes in your organization. With a dedicated CSM, a user-friendly platform, and a commitment to continuous improvement and support, you can expect a smooth and successful implementation process.
In order to have a more agile communication channel between you and your CSM, beyond email, we have created a Slack community. However, if you are not comfortable using Slack, we can maintain our communication via email without any problems.
Ready to get started? Book a demo and let's begin your Parallel journey!