How to set up automatic follow-ups?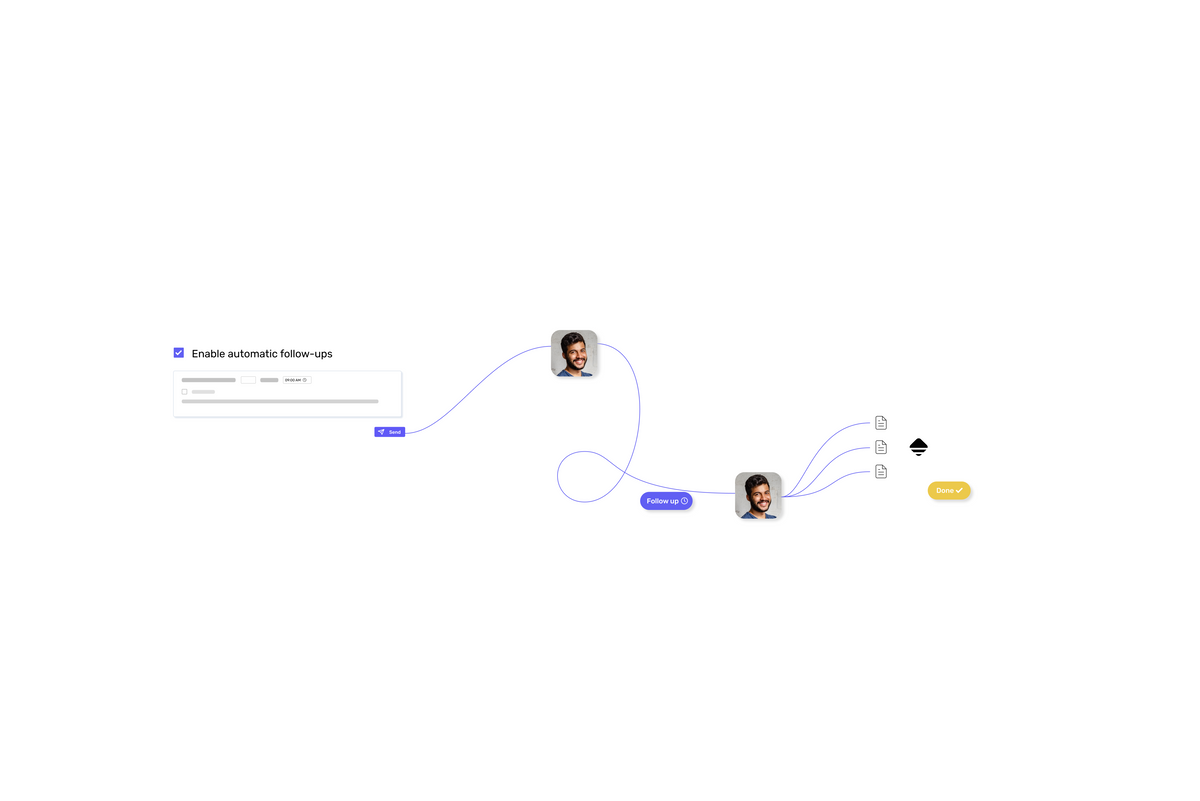 For years, companies have been using email as the only element of communication between the client, stakeholders, or coworkers.
And still, have you ever been caught off guard by a deadline, appointment, or meeting? Have you ever been stressed out by not having all the documentation you need from your client to start to work?
It happens frequently, sometimes not because of you, but due to external reasons. When that occurs, work can become stressful. Especially when meeting the deadline is critical for your business.
We know emails are a great tool, and essential for our work, but it lacks some functionalities. For example, do you need to do the follow-up with your recipients? How are the attachments you receive organized? Do you have easy access to them? Unless you check your mail during the day and search for your recipient's mail thread, it's hard to know when the conversation is over, and you have everything you need.
If you felt identified with the above and you want to know a way to solve it and become more productive, what you are looking for could be our automatic follow-ups!
What are follow-ups?
Follow-ups are one of the features of Parallel (if you don't know about us yet, feel free to read about our journey here!).
With this functionality, you won't have to check your email every 5 minutes, and that's amazing.
We have designed it to help you do the follow-up with your clients and the paperwork so that you can meet the deadlines.
So, how do follow-ups work?
It's a simple and easy to use feature. During the process of creating your petition, you'll see an option at the bottom of the page that says, "Enable automatic follow-ups."
Click on the checkbox shown in the image to activate it
Tell us the frequency you want us to send your follow-ups to your client
You can also add the hour, and choose just only workdays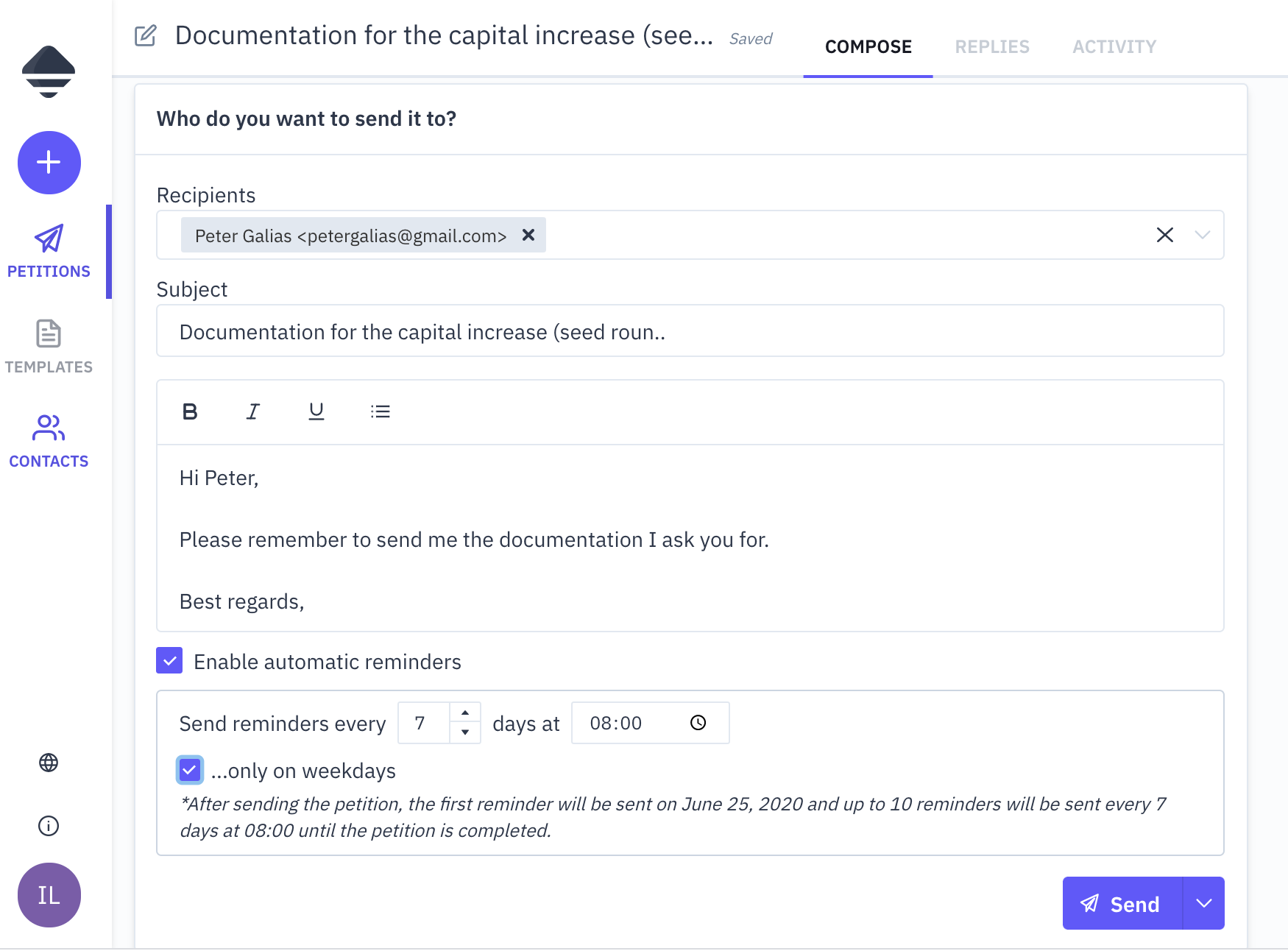 How do we communicate with your client?
We communicate with your client in a formal but friendly way.
We send to your client an email listing the documentation they need to upload.
We will only send follow-ups to your client when there is information missing, and with the frequency you set up.
Once everything is ready, we will notify you, and the follow-ups will stop.
Our goal is to make the communication process with your client fast and precise so that it runs smoothly.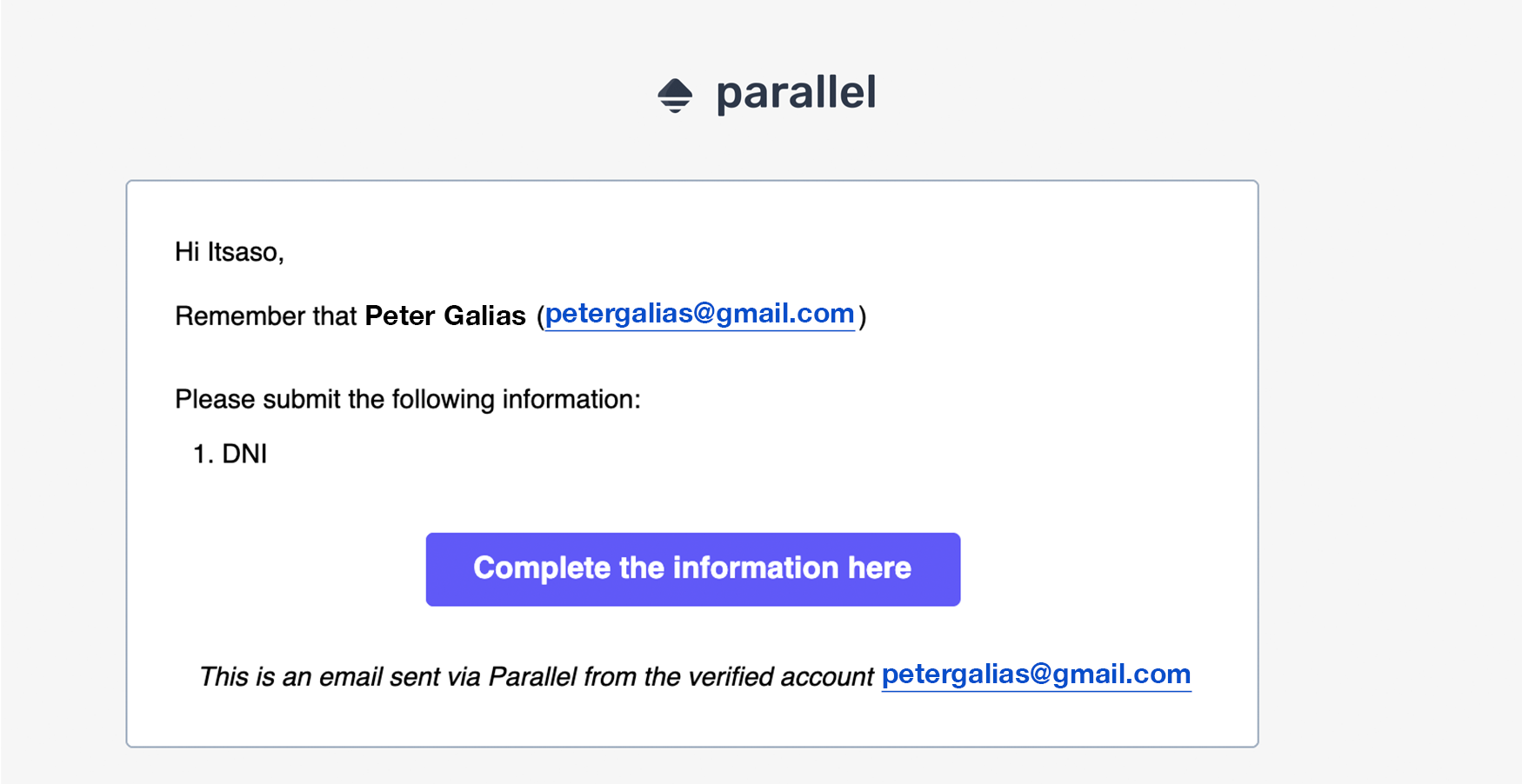 What is the ideal frequency for the follow-ups?
It depends on you and your client, the deadline, and the nature of the documents. It may also depend on how long it can take your clients to gather all the paperwork. We usually recommend sending one follow-up per week, to be sure they haven't forgotten about it.
How can automatic follow-ups make your work more comfortable?

Here are some reasons why we love follow-ups and believe it's a perfect functionality to include in our work routine:
1. Work efficiently
We think that it's all about working efficiently. Scheduling automatics follow-ups is one of the best ways to increase productivity and keep on track your client's petitions.
2. It's a time saver!
We all know that time is money, and the best way to work efficiently is to automate part of our work processes.
Think about it this way: it's best to spend two times a day reviewing your petitions in Parallel than checking your email non-stop during the day. Yes, managing your documentation like this will save you a ton of time! (as well as frustration and stress)
3. Never miss a deadline
Setting automatic follow-ups will help you have all the info on time. On the other hand, if your inbox is always full of emails, and it becomes difficult to go through all of them, you may even miss some of them.
Sending petitions and setting reminders with Parallel is an excellent way to make sure you have all the information and documentation you need from every client and case under control, just in one place!
---
If you want to see Parallel for yourself, you can request your invitation here:
---
Why did we create this functionality?

If the same we suffered before starting Parallel happens to you, you are probably spending a lot of time reaching out to your clients or other stakeholders to ask them for documents.
Sometimes this is very unpleasant, and it creates friction with clients. That is why Parallel exists today.  We are building the platform we would have liked to use, and we believe in helping you to regain your time back! (Here you can read our story)

---
Now is the time to put Parallel to work for you, register here, and start to regain your time.
And if you have any comments, we will be more than happy to hear them.
P.S. If you see yourself identified and know more people who we can help, feel free to share this article on your social networks. That would help us a lot!
---
If you want to see Parallel for yourself, you can request your invitation here: